View Event Details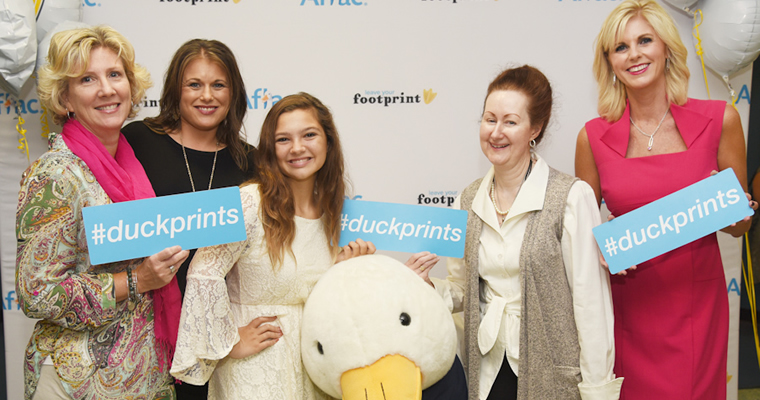 Dayton, Ohio
October 18, 2016
Our final stop of the 2016 Duckprints Tour brought us to Dayton Children's Hospital in Dayton, OH. Local news anchor, Cherly McHenry, aided in honoring Moms 4 Miracles, a group of women dedicated to the cause; Gina Robinette, a beloved nurse at Dayton Children's; and 14-year-old Kayleigh Crabtree who raised money and awareness for childhood cancer without knowing she would face the same cancer battle as those she had helped.
View Event Details
Dayton, Ohio
October 18, 2016
Moms 4 Miracles
When founder Sallie Taylor was called to raise money for The Leukemia & Lymphoma Society she called on her friends – an incredible group of mothers – to help her raise money. They went above and beyond, raising $42,000 in honor of children with cancer, with the biggest fundraiser being a golf outing. That amount earned Taylor the title of "Woman of the Year" and cemented her future as a champion for children.
The next year, Sallie created the Moms 4 Miracles Fund through the Dayton Foundation. Every year, this group of dedicated moms host their annual golf outing. They have also added a Derby Day event, and local businesses have all joined in with fundraisers. Battling cancer is a long process, with weeks spent in the hospital at a time, so these Moms also have purchased gaming systems and tablet devices to help entertain kids.
During the last year, they raised $25,000 to name an outpatient transfusion room in the new pediatric cancer treatment floor of the patient tower currently under construction at Dayton Children's main campus.
With the proceeds, the Moms help pay off medical bills, make wishes come true, fund research or support hospital initiatives. While their fundraising takes a lot of time, hard work and perseverance, Moms 4 Miracles says it's actually become another blessing. They get to see the indomitable spirit of youth conquer illness. They get to be a part of healing and hope. And in the end, they get to help make miracles.
Gina Robinette
No matter how much has changed in Gina Robinette's 30 years at Dayton Children's Hospital, one thing remains constant – the human connection. Technology has advanced and new treatments continue to emerge, but according to Robinette, nothing beats humans taking care of humans.
Battling cancer is a long fight and patients become a part of a family at Dayton Children's. Despite the arduous journey, tackling it together, one step at a time, lightens some of the load. Robinette enjoys developing that relationship with patients and their families while doing what she can to help.
The moments she will never forget actually come long after the children she cares for have beaten cancer, grown up and moved on with their lives. These past patients, who Robinette saw at their worst, come back with their own children to visit her. She gets to see the future that she helped create by caring for each child as if they were her own. No matter what a child must endure today, Robinette knows that a brighter future is possible, and she will never stop reminding each child, and each family, that a new day is ahead.
Kayleigh Crabtree
Lemons and pineapples: Two tropical fruits that will always remind Kayleigh that the fight against cancer is never over. While she is now cancer-free, her own battle with the disease made her more passionate about raising money and awareness than ever.
Kayleigh's learned the word 'cancer' at the tender age of 6 when she was introduced to Alex's Lemonade Stand, an organization which raises money for childhood cancer research. She started hosting her own lemonade stands and in two seasons raised more than $500 for the organization.
Never did she think that after those two successful summers she would be on the other side of the stand. At age 8, Kayleigh was diagnosed with acute lymphoblastic leukemia (ALL).
The battle would be long and hard for young Kayleigh – five phases of chemotherapy and losing her hair twice. Through it all, she had a champion by her side – a man she liked to call Dr. Pineapple. His real name is Dr. Mukund Dole, spelled like the name on a can of pineapple but pronounced with an "a" on the end. He was Kayleigh's oncologist, and he and the team at Dayton Children's together helped Kayleigh and her family make it through two years of treatment with a successful outcome.
Today at age 14, Kayleigh is just as passionate about raising money for cancer causes, including Dayton Children's, Children's Miracle Network, CureSearch and others. At the end of the day, Kayleigh knows that the roots of awareness and support that she plants will bear fruit for generations of cancer care to come.
Gallery