View Event Details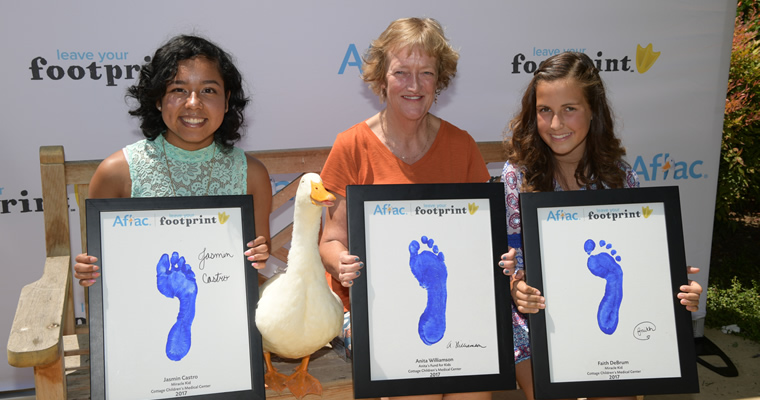 Santa Barbara, CA
August 10, 2017
The 2017 Duckprints Tour kicked off at Cottage Children's Medical Center in Santa Barbara, CA. Aflac was proud to honor local heroes including two former patients, Faith DeBrum & Jasmin Castro, who have taken on vital fundraising projects and Anita Williamson who provides patients with Loving Tabs shirts designed for easy port access during treatment.
View Event Details
Santa Barbara, CA
August 10, 2017
About Duckprints Award Recipient Faith DeBrum
Three weeks after her grandfather passed away from cancer, Faith felt a lump on her collarbone. Having witnessed "Papa's" decline for a year and ultimately seeing him succumb to lung cancer, she was understandably frightened.
The diagnosis of Hodgkin's lymphoma arrived on Faith's 11th birthday.
Her parents, Ronnie and Laura, assured her that Papa's cancer wasn't like hers, and that her cancer would be curable. From their home in Santa Maria, the family traveled to Cottage Children's Medical Center, where Faith underwent four rounds of chemotherapy.
Faith has been instrumental with her involvement in Children's Miracle Network Hospitals' fundraising for Cottage Children's Medical Center. Every year, May is Miracle Month at Costco – where her parents work – and it's during this time that the warehouse asks customers at the register if they'd like to make a donation.
Faith's photo is displayed prominently on a banner to serve as an inspiration for the impact the community can have on saving kids' lives. Now 13 years old, Faith has been cancer-free for two years.
This year, the warehouse hosted its inaugural Memorial Day Miracle Walk/Run and BBQ, where Faith and her mom headed up the walkers, while her dad led the charge of runners. Thanks to their efforts (and those of their work family), Costco is Cottage's top CMNH corporate partner in the community.
About Duckprints Award Recipient Jasmin Castro
Unexplained bleeding prompted Jasmin's mom to rush her to the closest Emergency Room in Ojai, Calif., when she was just 1 year old. She was quickly transferred to nearby Cottage Children's Medical Center where an egg-sized mass was discovered, diagnosed as a germ cell tumor.
"We were told she might only have five days to live," said Jasmin's mom, Juana, as the growth rapidly increased to the size of a lemon, then to that of an orange.
Jasmin spent a month in Cottage's Pediatric Intensive Care Unit before moving to the Acute Pediatrics floor. The family "practically lived" at Cottage for six months, as Jasmin underwent intense chemotherapy; treatment at such a young age resulted in some hearing loss.
She overcame the odds but was faced with another challenge years later when she turned 15. That's when Jasmin collapsed from an aneurysm.
Again she was taken to Cottage, where she spent a little more than three weeks in the ICU in an induced coma. Afterwards, she had to relearn how to walk and talk.
Today, 17-year-old Jasmin is in good health and recently shared her experiences on Spanish radio with her family during the Children's Miracle Network Radio Bronco 107.7 Radiothon.
Her entire family, who took time out of their busy schedule, donned Cottage Children's Medical Center shirts and rallied donations during rush hour on the corner of Milpas Street alongside the station's DJ, collecting more than $1,200 from passersby to help kids like Jasmin at Cottage.
About Duckprints Award Recipient Anita Williamson
Seeing a picture of her friend's young daughter undergoing chemotherapy in a hospital gown marked "Property of Cottage Hospital," Anita was inspired to take action: There must be a friendlier, more comfortable outfit for kids facing cancer, she thought.
That was the moment she decided to do something.
Anita contacted her friends, Diane and Richard Nares, co-founders of the Emilio Nares Foundation in San Diego (enfhope.org). The organization helps low-income and underserved families meet basic needs associated with caring for a sick child, and it honors the memory of the couple's 5-year-old son, who passed away due to acute lymphoblastic leukemia (ALL). Through the Emilio Nares Foundation, Anita purchased and then donated to Cottage Children's Medical Center a total of 300 soft, colorful Loving Tabs T-shirts designed with snap openings at the shoulder and sleeve to allow for easy port access during infusion treatments. Her donation was in honor of the doctors who cared for her during a recent hospital stay.
Thanks to Anita's generosity, patients at Cottage's Grotenhuis Pediatric Clinics are able to receive the garments for free and can take them home and reuse them for future treatments.
Anita plans to establish a program that will continue to benefit all children undergoing cancer treatment in the future, which will enhance the comfort of pediatric patients.
Gallery