View Event Details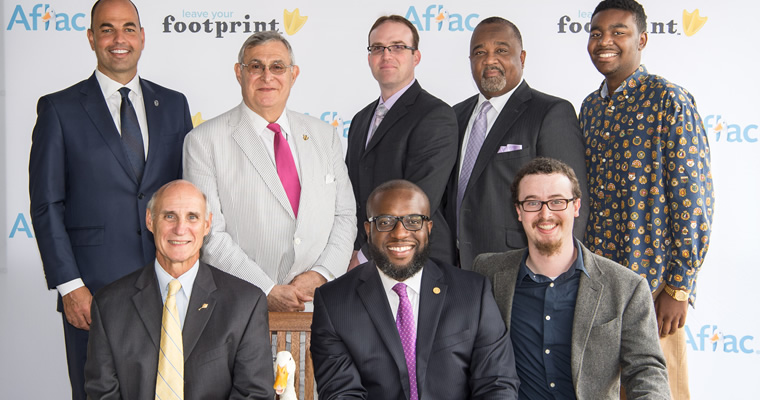 Columbia, SC
August 24, 2017
The second stop on our 2017 Duckprints tour brought us back to long-time partner, Palmetto Health Children's Hospital, to celebrate those making an impact on children facing cancer. Honorees included former patient and advocate, Craig Q. King; hospital and CAMP KEMO volunteer, Julian E. Ruffin; and Curing Kids Cancer founders, Grainne and Clay Owen.
View Event Details
Columbia, SC
August 24, 2017
About Duckprints Award Recipient Craig Q. King
Many people spend their entire lives searching for purpose. Clarity of purpose, for some, develops later in life or never at all. At 17, Craig King discovered his purpose: "to inspire, teach and serve the people of the world." Craig is living his purpose and considers it a gift given to him by cancer.
In 1999, Craig was diagnosed with osteosarcoma, a type of bone tumor. After his left tibia and kneecap were removed and reconstructed, he began a year of chemotherapy in the Children's Center for Cancer and Blood Disorders at Palmetto Health Children's Hospital. This life-changing experience opened Craig's heart to selfless giving. After completing treatment and learning to walk again, Craig was inspired to become a mentor and counselor in 2001 for CAMP KEMO, an annual camp for children facing cancer and their siblings. Soon after, Craig co-founded "Craig Q. King's Celebration of Life Gala" with his mother, Paulette King. Over the years since his diagnosis, Craig and his family have raised more than $100,000 in event proceeds that have been donated to Children's Hospital and other charitable organizations.
Craig, a native of Manning, S.C., is Director of Governmental Affairs for the Palmetto State Teachers Association in Columbia and is the CEO and founder of the Craig King Group, LLC. He has been recognized with numerous leadership awards, including 2007-2008 District Teacher of the Year for Orangeburg Consolidated School District Five, the 2008 Charles Dickerson Community Service Award presented to one South Carolina teacher for service to the community and 2013 M.A. Lee Scholarship Gala Medical & Health Activist Award.
About Duckprints Award Recipient Julian E. Ruffin, Ph.D.
Diligence, passion and selflessness—three components that make up the body and soul of those who serve as trailblazers for the greater good. For nearly 35 years, Julian Ruffin has demonstrated this type of servant leadership in our community.
Working as the director of the Child and Adolescent division of Columbia Area Mental Health Center in 1981, Julian began his relationship with Palmetto Health Children's Hospital as a volunteer. He spent countless lunch breaks working with patients and families who were having a difficult time emotionally during treatment. This fueled his desire to get more involved. In 1983, he became a volunteer counselor with the adolescent boys at CAMP KEMO, a one-week summer camp for children with cancer and their siblings. CAMP KEMO became one of his greatest passions, both personally and professionally. Two years later, he was one of the co-founders of Lasting Impressions, a peer support group for teen cancer patients and survivors. In 1993, after 12 years of volunteering, he joined the Children's Center for Cancer and Blood Disorders team as coordinator of Psychosocial programs and Clinical Associate Professor of Pediatrics with the USC School of Medicine.
In the years that followed, Julian developed other innovative programs such as the "Gather, Relax and Come Eat" (GRACE) dinner; "HUGGIES," a parent support group for those with pre-school children being treated for cancer; Family Weekend, a three-day retreat for newly diagnosed families to provide peer support, and Camp New Horizons, a weekend camp for children who have lost their siblings to cancer or a blood disorder. He continued his passion for CAMP KEMO by becoming the leader for the Counselors in Training (CITs) and was instrumental in advocating for a CAMP KEMO web page so parents could see pictures of their children participating at camp. Julian also was an active member of the Professional Advisory Group for the Pastoral Care department and served as chair of this group for many years. He also led seminars on Grief and Loss in Children for Clinical Pastoral Education students and medical residents. Now retired, Julian is spending some of his free time volunteering with the Palmetto Conservation Foundation and as a Disaster Mental Health volunteer with the American Red Cross.
About Duckprints Award Recipient Curing Kids Cancer (Clay and Grainne Owen)
Grainne and Clay Owen's life took a significant detour when they lost their son, Killian, to leukemia in 2003. From that moment forward, the Owens made a commitment to create a legacy for Killian that would be carried out through Curing Kids Cancer, established in 2005.
For nearly 12 years, Curing Kids Cancer has partnered with Palmetto Health Foundation and Palmetto Health Children's Hospital to support the Children's Center for Cancer and Blood Disorders. More than $312,000 has been donated to help fund a research nurse and advancements in childhood cancer treatment. This funding set Children's Hospital into motion to bring stage one and stage two clinical trials, the most innovative therapies, to children in South Carolina. Without these treatments, children would likely have to travel outside of the state and leave their families and support systems.
Curing Kids Cancer and the Owens' commitment was elevated last year when they announced their pledge to establish a $1.2 million endowment to establish the Gamecocks Curing Kids Cancer Clinic at Palmetto Health Children's Hospital. Curing Kids Cancer Endowment funds will help the Children's Center for Cancer and Blood Disorders team with the complex processes of helping families navigate the clinical trials process, enrolling childhood cancer patients in clinical studies and ensuring patient data is collected accurately.
Gallery